Shipping & Returns
Calculate Shipping

Shipping Charge can be calculate through our online cart website, simply by adding products to carts and enter your delivery postcode.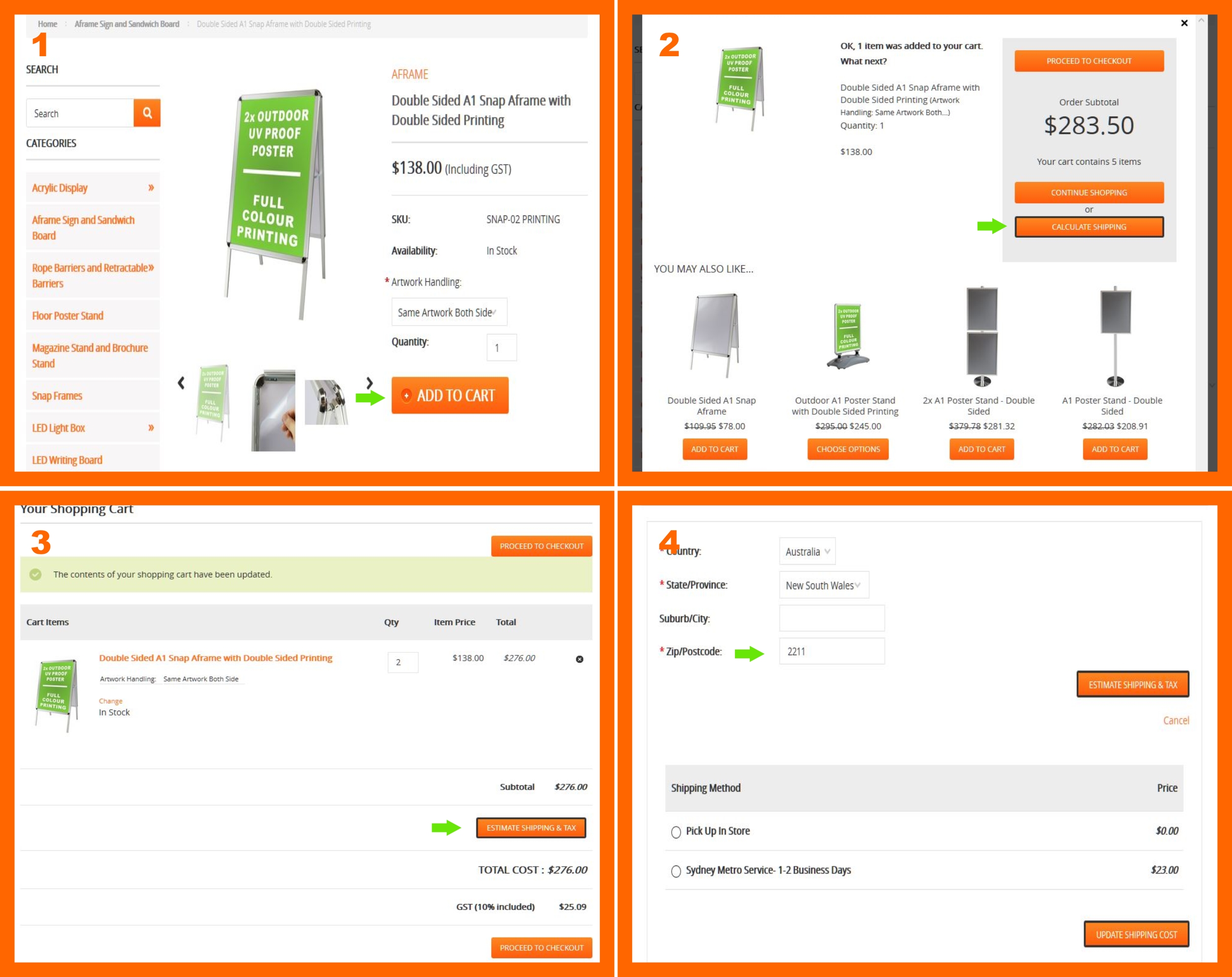 Shipping & Return
As we stock most products in our warehouse, we are able to dispatch most order same day before 11:00am with our express courier. Depending on your location, it take approximately 1-2 business day for Sydney Metro, 2-3 business to Melbourne, Brisbane, Adelaide metro and 4-6 Perth metro.
Delivery Time
Any date quoted for delivery is an estimate only, and unless guaranteed by Retail Display Direct in writing providing for liquidated damages for failure to deliver by the quoted date, Retail Display Direct shall not be liable to the Customer for any loss or damage howsoever arising from failure to deliver on or before the Quoted date. The Customer shall accept and pay for Products, not withstanding any failure by Retail Display Direct to deliver by the Quoted date. Retail Display Direct is not responsible for any delays in delivering due to delay by courier service.
Goods specially ordered in, must be fully paid for prior to delivery & cannot be returned or exchanged without approval from Retail Display Direct in writing.
Exchange and refund must be notify in 30 days of item receive, item returning must be brand new package in original box. If return item is damage in transit. It cannot be exchange or refunded.
Retail Display Direct utilizes multiple shipping partners to facilitate the shipping of some items.
Delivery is charged per order, based on size and weight. During checkout you will need to calculate shipping, please select the area that best corresponds to the delivery address.
Dates given for delivery are stated in good faith but are not to be treated as a condition of the sale. No claim shall be made by the Buyer on account of late delivery however caused. Late delivery shall not constitute a breach of this contract by the Seller, and the Buyer shall not be entitled to cancel the contract because of late delivery.
Damaged or Faulty Goods
In rare situation if goods are received in damage or broken, buyer are require to contact us within 7 days of receive. We are able to provides replacement on products, however in some situation, we require photo of damage products.
Warranties
We provides 12 month warranty on our electric product on the date of invoice, such as light boxes etc. We only replace electric product in the warranty period if it fault due to non man made fault such as adapter faults etc. All other product are back with 30 days warranty from date of purchase.